The Real College Experience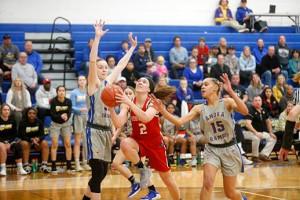 One of the biggest reasons so many high school students – and their parents – consider a four-year university is to get the real 'college experience'. Experiencing life in the dorms, playing sports, attending games, and joining clubs are all important rites of passage. And they are all things also offered by Wisconsin's technical colleges.
Many Wisconsin technical college students build leadership skills through programs offered on campus like student government, community involvement and service learning, and study abroad programs. The colleges offer ways for students to be involved through things like health and wellness challenges, social and cultural awareness programs, and games and activities for students.
Some of the colleges have sports teams connected with the National Junior College Athletic Association (NJCAA). At the time of this writing, Madison College is in the top 20 for Division II Baseball rankings. Last year the Western Technical College women's basketball team won the national title, and for the second year in a row, the Milwaukee Area Technical College Stormers men's basketball team won the NJCAA District 3 (Midwest A) championship. The team was consistently ranked No. 1 in the nation during the 2019-20 season.
Dorm living is offered at six colleges, and the others may offer housing nearby through agreements with other colleges or other arrangements.
Nearly all of Wisconsin's technical colleges belong to Phi Theta Kappa (PTK) Honor Society, nationally recognized by the American Association of Community Colleges as the official honor society for two-year colleges. Students with a grade point average of 3.5 or higher are asked to join their college's chapter of PTK, giving them access to scholarship opportunities along with leadership and service experiences.
Understanding that students already have a lot going on, student life activities provide valuable networking opportunities and can greatly enhance learning and social opportunities through the college. In some cases, for example with clubs and organizations, students can apply knowledge in practical ways and develop strengths in areas they may have less knowledge or experience.
The real college experience doesn't only happen at a college with huge lecture halls. Wisconsin's technical colleges can be considered a number one choice for any student interested in furthering their education.