Paul Reardon — passion, artisan craftsmanship, and a good business plan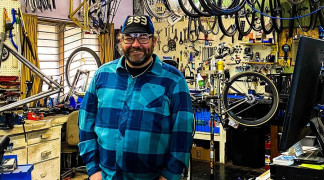 Blue Steel Bike of La Crosse, Wisconsin, is a mobile bike repair shop for most of the year and a custom frame and bike build shop mainly in winter. Paul Reardon, the owner of Blue Steel Bike, is the brains and the talent behind the uniquely positioned and successful operation. Reardon's motto is, "Our frames are one in a million, not one of a million."
Reardon graduated from Western in 2007 with a welding degree and started the Blue Steel Bike business in fall 2010. At that time, he was already equipped with many years of bike mechanic and frame building experience complemented by a lengthy stint perfecting his craft working as a professional welder. In the beginning, Blue Steel was a part-time gig successfully augmenting his full-time welding job. He was overly busy until he became a laid-off welder. With clarity only afforded hindsight, Reardon states, "It was the best thing that ever happened to me." The business took care of the laid-off workers by helping them plan for life after layoffs.
Adept at making a solid case for himself and a yearning to try something different, Reardon suggested the downsized business send him to a titanium bike building class offered in Oregon instead of the standard welding classes in which his colleagues enrolled. The advisor said, "if you can prove to me you can make money at it, my answer is yes!" It's worth mentioning that one inspired soul was able to secure funding to attend watch-making school.
As a nontraditional student with a great business idea, Reardon earned Western's nine-credit Entrepreneurship Certificate. With insight, experience, and collaboration, the classroom project transformed Reardon's vision into a practical, workable business plan. New to online instruction, Reardon once showed up in person to virtual office hours, searching for the seemingly absent instructor; he laughs as he recalls the misguided effort. "The instructors were cool and easy to work with. Pam Culver, my marketing instructor, really helped me with the practical elements of owning and running a business."
Reardon knows he is lucky. He loves what he does; he has a passion for his craft. He teaches bike maintenance classes to kids in his charming and eclectic shop. The classes are more like essential life lessons as he shares pearls of wisdom about life and education: "Don't resist learning, respect what they're teaching you in school; it's OK to be smart. I use geometry every day in a career I love. Take risks and try something new. Don't settle and deeply consider what you enjoy." He extolls the virtues of working with his hands and his mind to create something exceptional, beautiful, unique, and life-enhancing. To date, his biggest regret is not starting his business a decade earlier. The best advice he received and now freely shares, "There's never a good time to jump off a moving train; you just have to do it."
Reardon and Blue Steel Bike are essential assets and integral components of La Crosse's thriving bike community. You have likely noticed the Blue Steel Bike van around town. It's a mobile service that comes to you—schedule an appointment anywhere within the greater La Crosse area; he will travel further for a fee. Reardon works on any bike without a motor, new or old, and stocks most basic spare parts in the van. You will be up and riding in no time at all!
It's strongly recommended that any self-respecting bike enthusiast research Reardon's custom bike builds. He offers steel, stainless steel, or the previously mentioned titanium frames to construct your perfect dream bike. Each bicycle is built from meticulously measured components, one at a time, from start to finish, in his northside shop. Each bike is a work of functional art with a personal custom fit that handles precisely how you like it. As a customer, be involved in the process as much or as little as desired: it's exciting to see how the metal tubes and custom cut and burnished pieces eventually become a bike, perfect for only you.
Three years ago, Reardon completed a class at the Olympic Training Center in Colorado Springs, Colorado, to become a certified race mechanic. As a bike mechanic, Reardon travels the country every summer to help with the Juvenile Diabetes Research Foundation's summer ride series to find a cure. He has also worked at an international five-day road cycling race starting in Seoul, South Korea, called the Tour D'DMZ. The five-day racing route travels the length of the demilitarized zone—a genuinely thrilling experience. The work trip speaks directly to Reardon's philosophy of continual learning and staying interested in the world. Reardon realizes that knowledge opens doors to more adventures, meeting new people, and trying unique cuisine in less-traveled places. This is what life is all about: rich experiences are superior to riches. However, the reality is there are few things he enjoys more than building and fixing bikes.