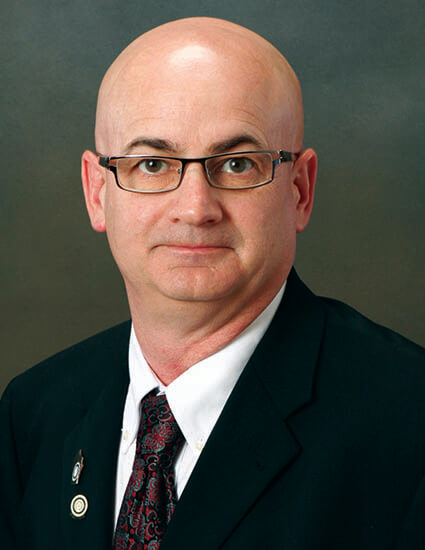 Daniel Sperberg
Employee Member
Daniel Sperberg has been the training director at the Wisconsin Operating Engineers Training Center since 2004. He manages the largest apprenticeship program in Wisconsin, with currently over 800 active apprentices. He has also been the vice president of the Operating Engineers Local 139 since 2014.
Since Daniel grew up in a farming and construction family, he transitioned effortlessly into a career as an operator, truck driver and mechanic after graduating Shawano High School in 1979. He worked as an Operating Engineer apprentice and was later hired by the Training Center in 1997. This is when Daniel began his career of training and educating the next generation of Operating Engineers. It wasn't long before his commitment and drive resulted in him advancing to the position of site coordinator at the Training Center in 1999. By 2004, he had further advanced to his current position as training director. Daniel was elected as an officer with Local 139 in 2004 as the Treasurer and in 2010 he was elected to Financial Secretary. In 2014, he was promoted to his current position as Vice President of Local 139.
Daniel has received extensive credentials in order to educate new generations of Operating Engineers in their safety certifications necessary in the construction industry. He has received credentials from the National Mine Academy in Beckley, West Virginia to instruct Mine Safety and Health Administration. He is also certified as an OSHA, CPR & First Aid, Hazmat and MEA (pipeline) safety instructor.
Daniel also serves on the following boards and committees: Wisconsin Tribal Transportation Council, Governor's Council on Workforce Investment, and Operating Engineers Health Fund Trustee.
Daniel has been nationally recognized for his service and leadership and was appointed as an Apprenticeship Ambassador in November 2022 by the United States Department of Labor. He has also been recognized by the Wisconsin Department of Transportation and received their Tribal Excellence Award. He was also awarded the Labor Partner Award by WRTP Big Step, Newsmakers of the Year award by The Daily Reporter and the Excellence in Apprentice Training award by the International Foundation.
Daniel and his wife Bonnie have shared in over 41 years of marriage. They have three adult children and three beautiful grandchildren. Daniel is an active member of both his community and his church.
Term Expires May 2025
Operating Engineers Local 139 Vice President, Training Director
W11584 State Highway 21
Coloma, WI 54930
dan@139training.org
(715) 228-4911