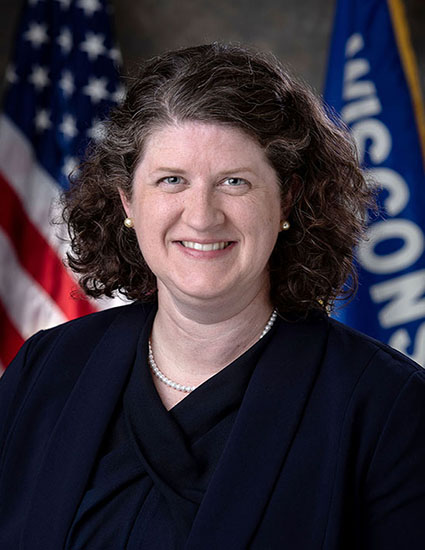 Jill Underly
Wisconsin Superintendent of Public Instruction
Dr. Jill Underly was elected State Superintendent of Public Instruction on April 6th, 2021. Dr. Underly has a deep background in public education, since 1999, she has worked in all facets of public education, PK – 16 as a high school and middle school social studies teacher, a University of Wisconsin College of Letters & Science academic advisor, a Title I Consultant and assistant manager at the Wisconsin Department of Public Instruction, an elementary principal and Director of Instruction, and most recently, a rural school district superintendent.
With over two decades of public education experience, including her most-recent 6 years as the Superintendent of the Pecatonica School District and 5 years at the Department of Public Instruction in both Educator Licensing and Title I, Dr. Underly has been committed to ensuring that every child, every day, has the opportunity for a first-class public education in the State of Wisconsin.
Underly received bachelor's degrees in history and sociology from Indiana University-Bloomington, a master's degree in secondary education from Indiana University-Purdue University, and a master's degree in educational administration and a doctorate in educational leadership and policy analysis from the University of Wisconsin-Madison.
She and her husband, John, have two children, both currently in middle school. They live on a small farm in southwestern Wisconsin and raise a menagerie of chickens, farm cats, and a Labrador Retriever among a grove of fruit trees and a large vegetable garden.
Ex-Officio Member
State Superintendent, DPI
125 S Webster St
PO Box 7841
Madison, WI 53707-7841
dpistatesuperintendent@dpi.wi.gov
(608) 266-1771