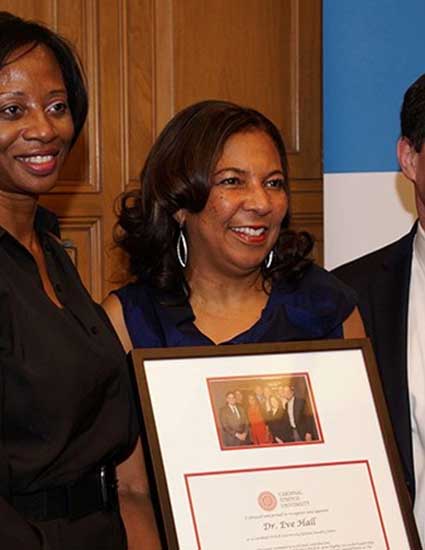 Dr. Eve M. Hall
Regent, University of Wisconsin (UW) Board of Regents
Dr. Eve M. Hall serves as the President and CEO of the Milwaukee Urban League. She is a native of Milwaukee, with work experiences in Wisconsin, Florida, and Washington, D.C.
Previously, she served as the President/CEO of the African American Chamber of Commerce of Milwaukee, where she led the renewal of the organization. Hall also served as Chief Innovation Officer for the Thurgood Marshall College Fund, where she spent ten years in various national leadership roles impacting students and university/school district partnerships in several states. Other past leadership roles include Vice President of Public Affairs for Family Service of Milwaukee; Milwaukee Public Schools School to Work Administrator, reporting to the Superintendent; and Director of Governor Tommy Thompson's Milwaukee Office.
Hall is the cofounder of the African American Women's Project Fund, created in 1999 and designed to provide support to organizations supporting the well-being of women and girls. The over-$200,000 fund is held in the Women's Fund of Greater Milwaukee. She earned a B.S. degree in educational psychology from Florida A&M University, a M.S. in administrative leadership from the University of Wisconsin-Milwaukee, and a doctorate in educational leadership from Cardinal Stritch University.
Ex-Officio Member
Milwaukee Urban League
435 W North Ave
Milwaukee, WI 53212
ehall@tmul.org
(414) 374-5850 Ext. 121